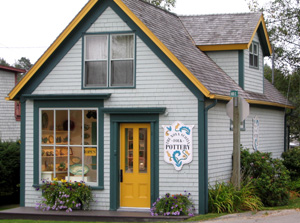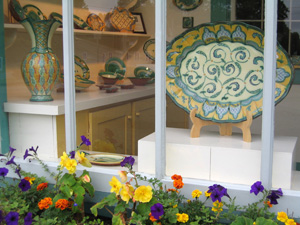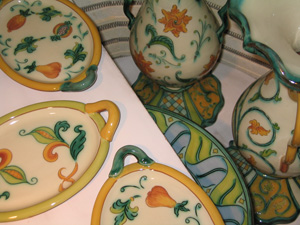 Jim Smith's work is available for purchase exclusively through his showroom. Visitors are welcome to browse, and choose a piece for themselves or as a cherished gift. A visit to Jim's studio is always a rewarding experience, while some come to admire the work, most leave with a treasure. Jim's limited edition pieces are prized by collectors from around the world who often journey to his studio to add to their collections.
Jim Smith's charming studio / showroom, a carefully restored circa 1860 storefront, is located in the idyllic seaside village of Chester, Nova Scotia. Inside, the shelves are brimming with an ever-changing selection of colourfully decorated platters, bowls, vases, and serving dishes. These delightful and lyrical pieces are a joy to display, function graciously, and offer the promise of domestic enrichment. Come and see for yourself, and leave with a gorgeous piece of contemporary Canadian fine craft.

Purchasing online can be arranged with a minimum purchase of $300. The work on the Current Pieces page may be purchased if it is available in Jim's showroom. The work on the Gallery page is from previous years and is not available for sale. As all Jim's work stems from an ever changing and very limited edition production, the work available for sale will change as well.
Enquire via email whether the work you are interested in is available. Shipping and pricing details will be arranged via internet, payment will be arranged over the phone. All sales are final. Please understand that if the work is not available, orders cannot be placed. This is to allow Jim the freedom to explore new ideas and new work and to continue to grow artistically. These policies are subject to change without notice.